Product Information Sheet


Fast Acting
Pain Relieving Gel


| PRODUCT NAME | PROD. # | PACKAGE SIZE | PRICE | Order Now! |
| --- | --- | --- | --- | --- |
| WONDER GEL | 6134 | 3.9 Oz. | $19.50 | Add To Cart |
Why Use Wonder Gel?
Wonder Gel provides great relief for all the aches and pains associated with sore muscles and back aches caused by overexertion, stress and strains. Itís a fast acting, deep penetrating gel in a water base. You can wear it under your best clothes and not worry about greasy stains. It can be used by anyone over 2 years of age. Itís an ideal addition to your medicine cabinet so you can have ready access to apply to points of pain anytime you need it. Wonder Gel is of the same high quality that youíve come to expect from Life Plus.
What Is Wonder Gel?
Wonder Gel contains camphor, menthol, and methyl salicylate in a water base that is greaseless and nonstaining. It provides wonderful, fast relief for aches and pains.
Additional Lifestyle Options to Ensure Health.
Diet and exercise play an important role in maintaining healthy joints and muscles. Be sure to spend sufficent time warming up before your exercise routine and cooling down afterwards.*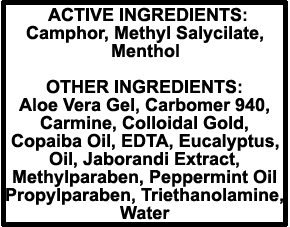 Directions
Apply liberally as often as needed. May be used with wet or dry bandages or with ice packs.
*These statements have not been evaluated by the Food and Drug Administration. This product is not intended to diagnose, treat, cure or prevent any disease.