Product Information Sheet
Active Proteolytic Enzymes
For The Blood Stream And Whole Body


| PRODUCT NAME | PROD. # | PACKAGE SIZE | PRICE | Order Now! |
| --- | --- | --- | --- | --- |
| Somazyme | 6141 | 120 Tablets | $30.25 | Add To Cart |
Why Use Somazyme?
Think about all the chemical reactions that occur in our bodies within the period of a minute. They are too numerous to mention. Our bodies use enzymes to support these chemical reactions. Unfortunately, because of improper diet and the fact that heat destroys many enzymes, you may not be receiving all you need to properly support your overall health. Somazyme is an easy way to supplement your daily enzyme intake. Somazyme supports the body's natural ability to break down many of the larger molecules, so that they can be metabolized in a healthy way. The enzymes in Somazyme naturally and nutritionally support a youthful body, provide antioxidant support, as well as support healthy pancreas and immune system function.
What Is Somazyme?
Somazyme contains enzymes and cofactors that are absorbed in your digestive tract and then used throughout your body to support a wide variety of chemical reactions. In order to provide you with the ultimate in enzyme supplementation, Life Plus has combined enzymes such as magnesium, manganese and zinc, which are derived from plants and animals. Cold processing is used to maximize and preserve enzyme activity. Certain amino acids and buffering agents are used to make sure the enzymes will be available for your body to use at appropriate times.
Additional Lifestyle Options to Ensure Health.
Somazyme is a wonderful way to support the enzyme activity in your body. In order to support your overall good health, you may want to consider including a good multivitamin that includes fiber. Daily BioBasics™ powder is a wonderful way to ensure that you are receiving at least 100% of the Recommended Daily Value of all the essential vitamins and minerals plus additional nutrients and 50% of the recommended daily amount of fiber.*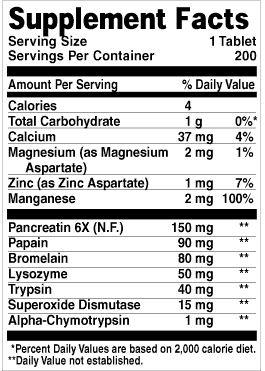 Directions
Take one tablet three times per day preferably on an empty stomach away from meals as an enzyme supplement for the whole body. Up to five can be taken per serving.
* These statements have not been evaluated by the Food and Drug Administration. This product is not intended to diagnose, treat, cure or prevent any disease.